Here we are, enjoying the pre-sunset cool breeze, the atmospheric amber light through the ever present mist, and the musical birdsong on a balcony overlooking a panorama of Balinese architecture and green jungle aspects. Yes Ubud has changed but that phrase "the more things change, the more they stay the same" doesn't cut it here.
Our first stop in Amed has reminded us vividly of what Bali was like 25 years ago, even 5 years ago is a different place. Amed is still a quiet, beach haven, without the hawkers, taxis and hassles. The local warungs serve medium to good homestyle food, the happy hours in the beach side bars are great for sunset viewing and the snorkelling straight off the beach is absolutely amazing..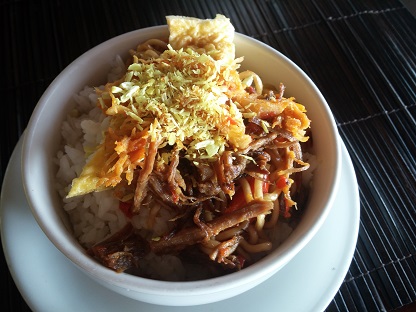 1. Local breakfast. 2.Grilled sfuffed calamari. 3. Local warung marketing
Driving to Ubud along the coast road we encounter the most spectacular ocean drive, but also seeing the poorest and most arid part of Bali, which includes the narrowest and unkempt road conditions.I'm a back seat driver, so ...
Tempeh curry home style
The small side streets and alleys of Ubud are now hives of activity. The resulting traffic is a nightmare , and we used to think it was bad back then. The good news is that even though we have ALWAYS LOVED Balinese food, it is now at a totally different stage of evolution. You can still find the family run warungs with a passion for serving fantastic homestyle food (although you do have to search harder), but the skill and execution of the "new kids on the block" are now of a world class standard.
1. Our favourite dish so far : hand made noodles, local crab and prawns, seaweed for texture, all bathing in the most divine stock you could encounter.
2, Soft shell crab with the now popular hand made rice crackers.
Not that there wasn't excellent eating to be found in Ubud previously, now you can see it on every jalan(street). Don't expect bargain pricing, but do expect exquisite flavours and techniques, utilising the most fabulous produce of this amazing island and cuisine. We love food, we live for great food and here we are, excited to say the absolute least. Most exciting is that the cuisine development isn't confined to maintaining the status quo, I love the incorporation of new ideas and techniques to traditional recipes which result in new and innovative twists.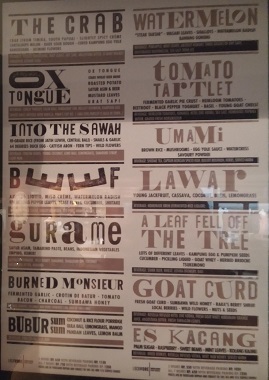 Locavore, with it's 7 course degustation menu, that actually includes 17 different tastings. Then there's the cocktail matching.... a totally new concept to get your head around. mmm, awesome, thanks to Katrina!
1. Locavore menu. 2. 62 degree duck egg yolk, local rice, snails & things from the rice paddy. 3.Dessert after dessert
1. Local snapper ceviche. 2. Local quail taliwang
Signing out now and may the force be with you! (and may the good food be with you also)