When I think of Pinot Noir food pairing, duck or mushrooms spring to mind immediately, but this grape is surprisingly versatile and happily matches with a range of different foods. Wines of the Mornington Peninsula and Yarra Valley have a wide variety of styles that showcase the potential of Pinot Noir to match a range of cuisines. Pinot Noir from NZ Central Otago have more body and depth (as do USA Sonoma Valley wines which get more oak treatment. French styles, especially those from Burgundy are cherry driven, rustic and earthy.
Cheese and Charcuterie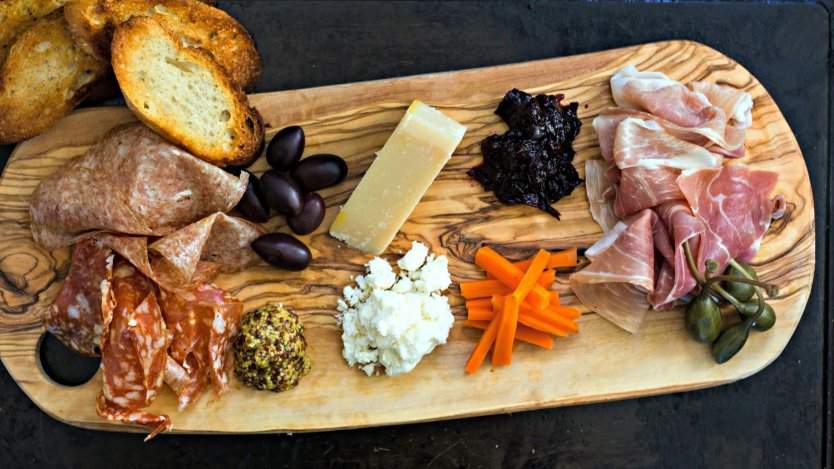 This wine has some tannin and can cut through the richness of fatty meats, yet is elegant enough to not overpower cheeses and cured meats. Cheeses with earthy, herbaceous flavours are a great match for Pinot Noir, particularly aged Camembert. Charcuterie or cured meats taste great and the savoury elements of Pinot Noir match the flavours perfectly. The rich flavours of paté or terrine will also work well.
Fish and Seafood
White wine and seafood? Sure, but take another look at Pinot Noir with seafood in delicate tomato sauces or even scallops, lobster and shrimp. Tuna or trout, or a smoked fish with Pinot Noir is a match made in heaven.
Meat
The natural cherry and game characters of Pinot Noir pair wonderfully with the sweet and smoky flavours of barbecue, that classic Southern American style on the rise in popularity of late. Chinese barbecued pork and Peking duck match beautifully with Pinot Noir. Barbecued chicken is also a superb match.
Bigger Pinot Noirs like those from Central Otago (New Zealand) match wonderfully with with the delicate flavour of lamb. Even think lamb souvlaki, or herb sausages.
Vegetables
Vegetable dishes often feature flavours that can be quite strong or alternatively there is no single dominant flavour. It is commonplace to rely on other elements of the dish, like accompanying grains or creaminess, to dictate a wine pairing, Pinot Noir naturally pairs well with chargrilled or roasted asparagus and caramelised brussel sprouts, also tomato, and stir fried vegetables Asian style
Spicy Food
Spicy food is one of the toughest challenges for wine pairing, but the fruit flavours and elegant tannins of Pinot Noir complement chili and spicy dishes very well.
Dessert
Wine styles which have chocolate and lighter sweet fruit driven qualities can even be matched with desserts -
in particular, those made with chocolate and berries, including a souffle.
With almost 300 wineries across the Mornington Peninsula and Yarra Valley, there are a huge range of styles and regional variations in Pinot Noir. Coupled with its natural versatility, you can match these wines with a broad range of cuisines.