It's time for PAELLA!
Does your dad love to cook? Want to spend some quality time with Dad?
Why not book into a hands on fun cooking class? If you want to learn the tips and tricks for creating the perfect Paella, why not bring your dad along and share an immersive Paella experience.
We'll cook some of the more well known, and a little less familiar styles of Paella.
Fine tune your options for the next family Sunday lunch get together!
Check it out here.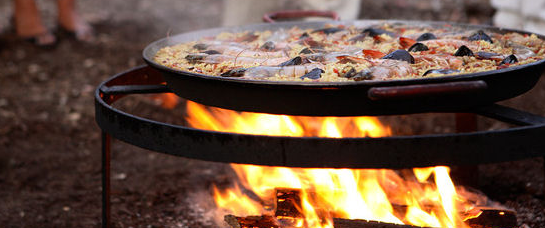 OR Dad can choose his own foodie experience
Hoges made the "shrimp on the barbie" quote famous, but lamb chops, steaks and snags (sausages) are what most Aussie backyard barbecues have mostly been about. Down Under, the weekend BBQ is the domain of the male. BBQ tradition is for the man of the house to take control of those tongs. Turn it and turn it and turn it again.
Sundays in Spain, sees Paella as the traditional family lunch, and guess who has the job of cooking it? Cooked outside, over coals, by the male of the family, it sounds just like an Aussie BBQ.
In the beginning, this humble dish was a way for Valencian peasants to use up whatever ingredients were available, including some tasty morsels like snails and rabbit. Usually cooked outside, usually overseen by the male, this rice based dish varied from place to place and cook to cook,
Today Paella (pronounced pay ey a) is considered somewhat of an art form, and whenever it is cooked, everyone has their own special tips, tricks and advice.
Soccarat is the slightly crispy base of the paella, and is highly prized by the Spanish. A bit unusual to Aussie taste because it is bordering on the burnt side of flavour.
The most well known Paella is the Seaood Paella, chock full of fantastic looking and tasting prawns, mussels and fish. Other types include "Chicken and Chorizo", ""Black Paella" (flavoured and coloured with squid ink), Pork and Beer", "Artichoke and Mushroom" and many many more offerings. If ordering a paella in a restaurant expect to wait at least half an hour for an authentic tasty dish, cooked to orde
r.