Spain and Portugal offer some of the best value wines in Europe.
There are a myriad of varietals of which many are unknown in Australia.
Wine was introduced to Spain by the Phoenicians in 800 BC which is some history!­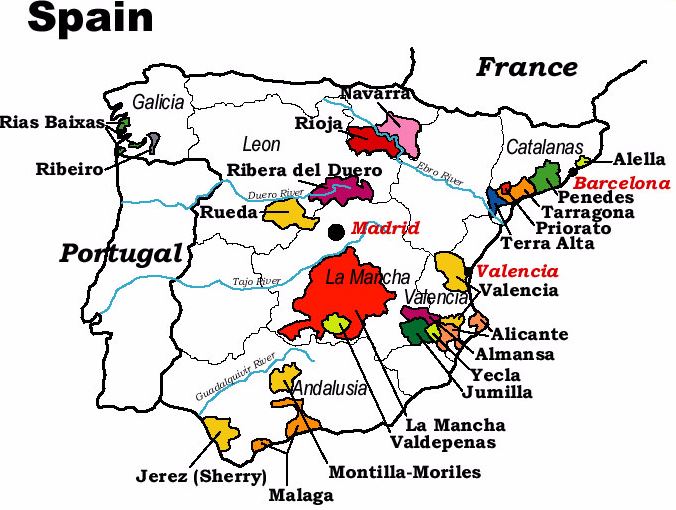 The good news is that they are affordable and great for everyday drinking at entry level and have amazing quality with great flavour and finesse at the top end. Famous for tempranillo and albarino, lets explore a few of the varietals….
Spanish Cava
Often featuring the grape macabeu, cava is a great alternative to prosecco or champagne.
Generally dry, it has great bead with elegant fruit flavours, pear and melon notes, with floral aromatics.
Though usually dry it can be produced "methode champagnoise" style with great fruit and acidity. It's great value at the low end and has amazing finesse at the top end – something for all budgets and tastes!
Food: great aperitif, fabulous with tapas
Tempranillo
Probably the most associated red wine of Spain, comes in affordable sub $15 options up to complex, developed oakey inky offerings as you go up the scale!
Typical flavour profiles include sour cherry, pepper, leather, dry fruit and spice with some herbaciousness.
Ready to drink young, they are spicy, tart, fruity and light to medium bodied, when aged in bottle and barrel, they take on richer flavours and oak maturation provides softening and sweetness.
Mainly from the Rijoca wine region in the north, these wines have an appellation structure and a cost structure that reflects that!
Rioja – less than 1 year in oak
Crianza - 2 years in barrels, 1 year in oak.
Reserva - 3 years in total , > 1 year in oak

Gran Reserva - > 3 years in total (>2 years in oak).
I was lucky enough to visit this amazing winery a couple of years ago - one of the oldest in Rioja an dexperience the reserva - it has great flavour fine grain tanins and elegance - sub $30 what a buy!
You can experience this wine along with 6 others at our 7 course Spanish Tapas and Wine Dinner on Saturday 7pm till late September 8! We have released 4 more seats at that dinner! $90
Food: Tapas, chicken and chroizo Paella, BBQ
Garnacha (or Grenache)
This varietal comes with lots of sweet fruit aromas, light berries and herb notes.
Top end garnarchas, usually from old vines, age very well and they can become quite big with dark berries, plums, aromatic spice / anise notes as well as pepper in more bold expressions.
Food: red meats braises, pork with red sauces, BBQ

Albarino
This seafood friendly varietal is common in the north west of Spain and has intense aromatics of lemons, limes, grapefruit pith, honeysuckle and even orange. Throw in basil aromas, stone fruit with minerality.
When you taste Albariño, enjoy the mouth-watering acidity, great mid-palate, saltiness, and long finish
Food: shellfish and other seafood white meats and Thai and Asian food
Have the desire to cook Spanish? Check out our Spanish Tapas and Paella Cooking Classes...
What to come to our Spanish Tapas wine matched dinner? Book now